Upcoming Events at a glance
 Find all the dates and events below where we can work in person on movement, handstands, safety, mobility and  more! If you would like me to come to your training space OR have a suggestion on a retreat location, I am always happy to hear from you via Instagram! ☀
Workshops
These are one-day events you can participate in – if you want to immerse for multiple days, check the retreat section.
Retreats
Retreats are a mix of training, vacation and reflection! Throughout a couple days within a small group we will have some workshops on different topics around movement. In between there's time to enjoy a beautiful location, good food, connect with the group as well as calm down & relax.
SEPTEMBER - Mallorca Movement Retreat
When? 28. September – 01. October 2023
(Thursday evening – Sunday afternoon)
Where? A beautiful finca located in the south of the island
What? 3 days of handstands, movement, reflection & fun
Who? YOU, as part of a group of 7-14 other beautiful people <3
TBD - Retreat with Michelle Vol. II
Michelle & I are (most likely) gonna host another Retreat together, like the one in Tenerife 2022 – so stay tuned!!!
If you are interested and want to be the first to know – sent me a DM on Instagram.
Have a general question about retreats? Check the frequently asked questions HERE
How to sign up for a workshop or retreat
Super easy: Just head over to Instagram and send me a message there!

I will then forward you an online-form, where you find all other details.
If you have any questions or concerns beforehand – same thing: I'm happy to help once you contact me on Instagram!
Looking forward to hear from you!!!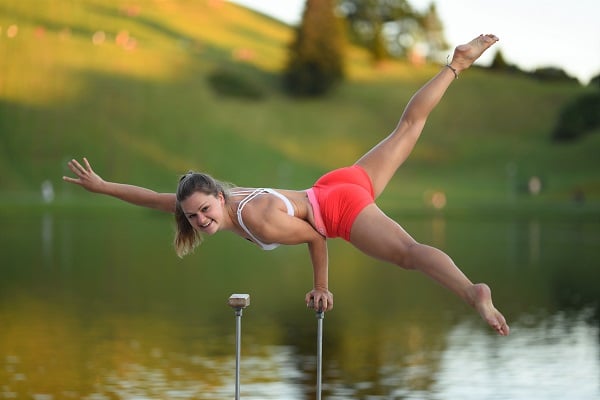 About your teacher
Caro has been increasing her focus on handstands and related movements since 2017. Her background in sports science and therapy (Master's Degree, JLU Gießen, GER) supports her continuously growing experience in teaching people of different levels and ambition.
In an ongoing quest for further growth in her own movement skills, as well as continuously developing her teaching proficiency, she regularly visits workshops and is in constant exchange of experiences and knowledge with other teachers.
If it's learning a new skill herself, teaching someone else, or creating or trying something new – Caro embraces the challenge of figuring out the best way to do so. Through handbalancing and flowy movement, you will be encouraged to challenge your body and mind.
With lots of joy, fresh energy as well as attention to detail, Caro will ensure that everyone can learn with clean and safe techniques – from beginner to expert.
Workshop Topics
I have three main workshops I teach – please find the description below or send me a message if you have any questions. 
Meanwhile, I am constantly working on learning, improving and expanding my knowledge and teaching in other areas – so stay tuned for more health and movement things to learn 💫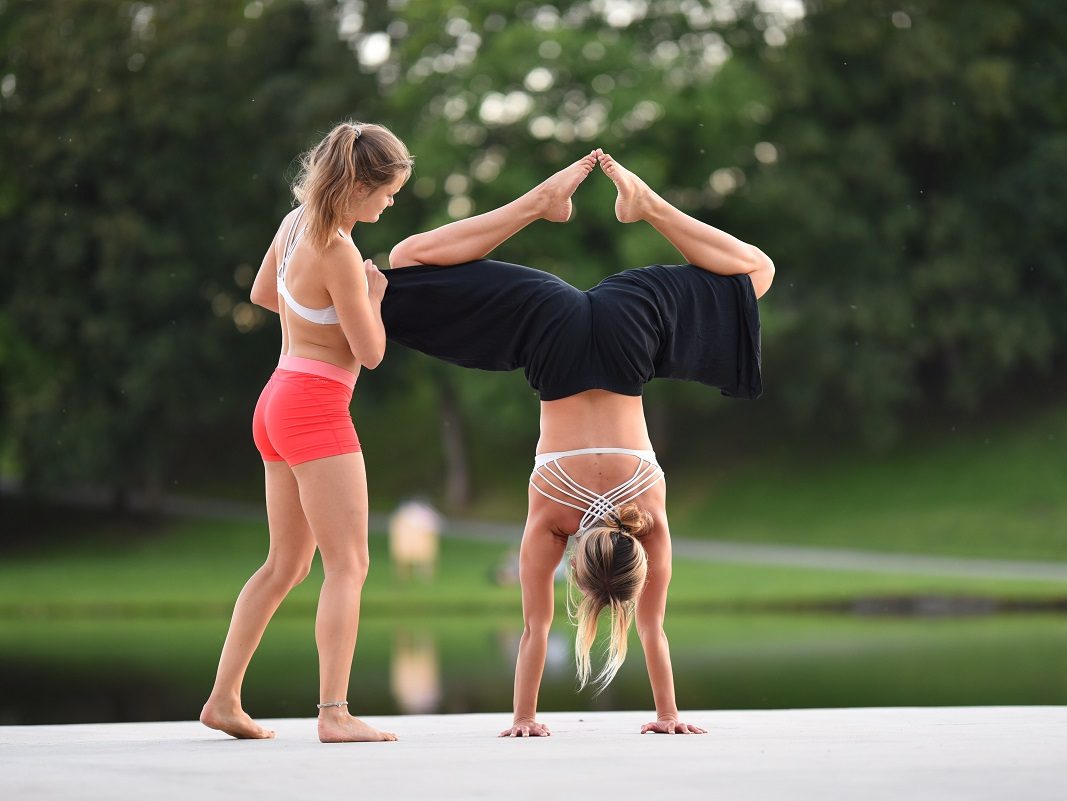 Balance Basics
Are you interested in learning a handstand but don't know where to start? Or maybe you already have some experience and want to learn more about technique and background? Then this workshop is perfect for you!
We'll start with specific warm-up exercises for the handstand, and you'll learn important details about hand placement, elbow and shoulder positioning. As we progress, we'll explore various (pre-)exercises to help you learn the handstand safely and effectively.
By the end of the workshop, you'll have a fundamental understanding of healthy handstand technique and know what  progressions are best for YOUR practice.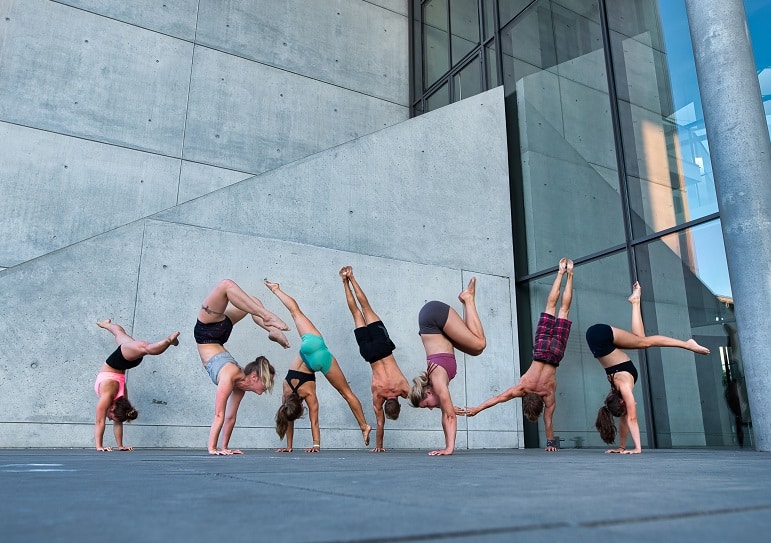 Press Handstand
The Press Handstand is an entrance where the legs are lifted into a handstand without any momentum, transitioning through the straddle position. This requires a combination of flexibility, strength, and especially technique.
After a handstand-specific warm-up, we'll focus more closely on hip mobility, compression exercises, and shoulder strengthening. You'll learn why these areas are relevant and discover where you should concentrate in your training.
As we progress, we'll examine the technique or "optimal" movement sequence. You'll learn various exercises and progressions, as well as what to watch for specifically in your practice.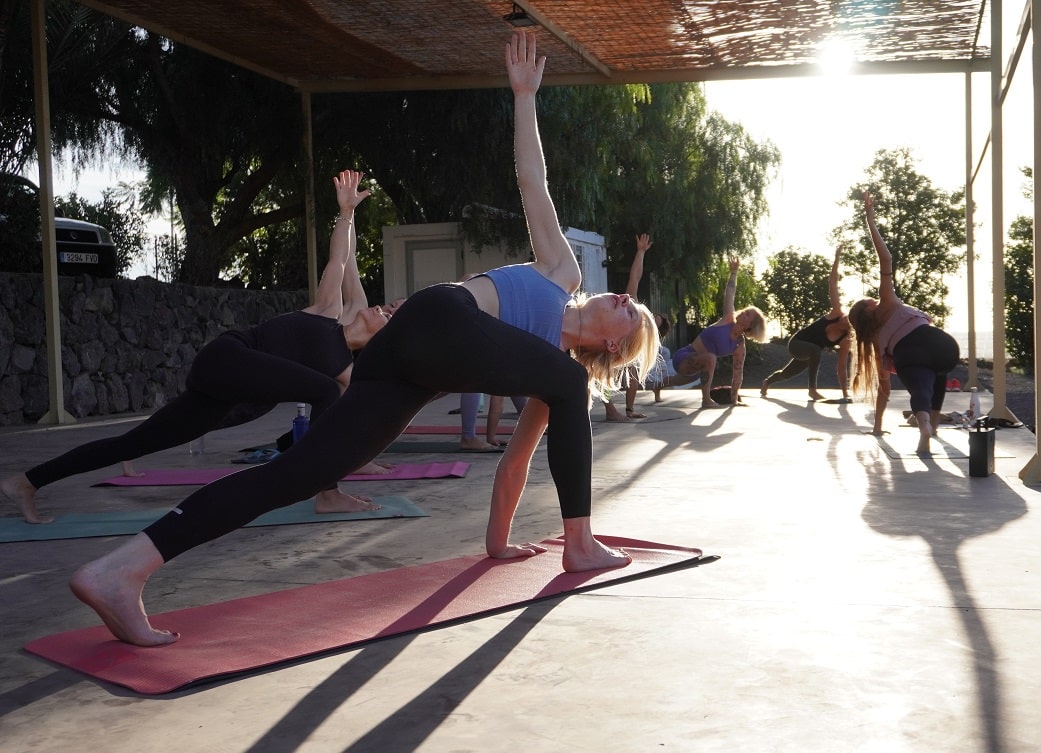 Learn to MOVE
In this workshop, you'll learn the basics of body control and what to watch for in order to keep your joints and muscles healthy. Caro will guide you through a series of movement sequences and progressions, helping you to develop the strength, balance, and technique to move better. The focus will be on the handstand, but you don't need to be able to hold a handstand! Instead, we'll repeatedly move through handstand-like positions to gain more control when going up and down.
The goal of the workshop is to help you better assess your abilities and move with more confidence. Whether for handstands or general movement control and mobility, you'll learn many playful movements for your training.

Who are the RETREATS for?
For YOU, if you are looking for a vacation where you can combine exploring a new place, finding time to relax and recharge while learning/improving your movement skills. All of that, together with like-minded people for extra motivation and support.
Do I need prior experience in Handstands / Surfing / Circus arts?
No – you do not need any prior experience.  Just make sure your body is injury free and bring an open mind and motivation with you. As we are working in small groups it is possible to adjust to your level. Please specify in the sign-up form in case you have any doubts toward your readiness.
What do I need to bring?
Use your general vacation packlist, including swim & active wear, some durable shoes. You can pack your personal yoga mat, blocks or other equipment, but everything needed will be provided at the location if not declared otherwise. 
What language will be taught in?
Workshops and Classes will be taught in English. However, Caro is happy to give individual cues or answer your questions in German, if you feel more comfortable that way 🙂
How many workshops are there gonna be?
Please check the retreats description for exact numbers. Usually there is at least one offer/class daily while also allowing you some free time to relax, explore the area, enjoy nature, bond with other participants, or do your own movement practice.
Are all meals included?
Some meals are included – please double-check with the retreat description or reach out to Caro for more details.
Are there vegan options? What if I have food allergies?
With the sign-up you will have a chance to specify any food preferences. In case there would be an issue with providing meals with the given requirements – Caro will reach out to you.
Who are the workshops for?
Most workshops are targeted to "all level" – Please check the workshops description or if you are unsure, send me a message to clarify if the workshop is a good fit for you 🙂